Bryan Adams Thrills Filipinos at his "Get Up! Tour" Live in Manila!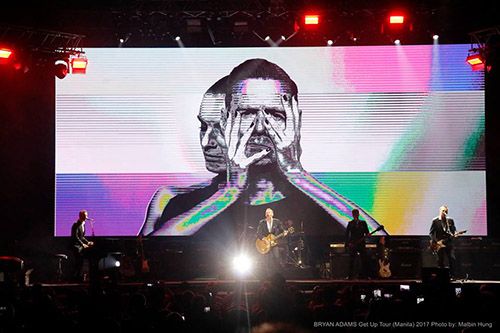 Canadian rock icon Bryan Adams wows his Filipino fans with an amazing two-and-a-half hour set at the SMART Araneta Coliseum last Wednesday as part of his long-anticipated "Get Up! Tour" Live in Manila, which finally saw the multi-awarded artist back in the Philippines after more than 20 years. Despite the long absence, Adams impressed the young and old alike with the same marvelous voice, guitar skills, and showmanship that earned him awards and nominations from all throughout the world.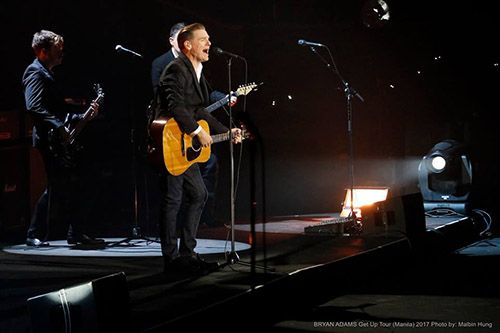 Performing a plethora of classics which include "Run to You," "Heaven," "Kids Wanna Rock," "Summer of '69," "(Everything I Do) I Do It For You, "Somebody," "Please Forgive Me," and "Straight From The Heart" and "All For Love" for the encore alongside his latest songs from the "Get Up" album such as "Go Down Rockin'," "Do What Ya Gotta Do," and the single "You Belong To Me," Adams drew thrills and cheers from a diverse audience of millennials and middle-aged adults who jumped, screamed, and danced with him 'til the end of the night. Even PNP Chief Ronald "Bato" Dela Rosa, who was right in front of the house, couldn't keep his joy and excitement while singing along to his favorite Bryan Adams tracks.
Aside from music, the concert was complemented by beautiful, vivid LED visuals which perfectly expressed each song performance; not to mention, the wicked guitar and drum solos from Keith Scott and Mickey Curry, respectively, added more intensity and flavor to the overall show.
By: Kitkat – Rakista Team
Photo by: Malbin Hung – Rakista Team