Goodleaf: OPM Is Not Dead, But Stagnant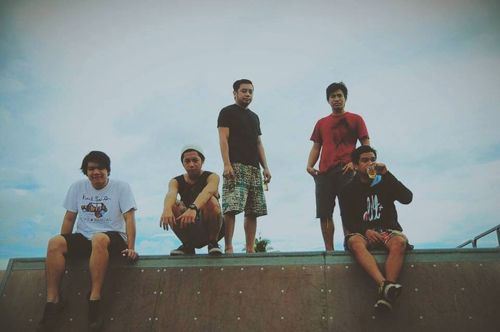 photo courtesy of Facebook
"Hindi siya patay actually stagnant lang siya sa mundo ng popular music," the band Goodleaf said in stating their opinion about OPM. "Kaso wala na tayo magagawa, ganun na talaga ang malaking porsytento ng kalakaran ng music industry dito sa atin, malala."
Goodleaf is a reggae-dub band composed of Edy Varde, Cliff Pama, Ivan Cornista, Marco Hautea, and Ranjit Alabos. Aside from sharing the story behind their band name – which was coined after the band's 'common interest' – Goodleaf also disclosed in an interview that back then, the members were just meeting every weekend for a jam that they would call time for a goodleaf. "It's having a good vibration thru reggae dub sound and heavy-happily "medicated" with sweet leaf. Then I discovered this song from Sean Kuti 'The Goodleaf' ayun mas na define nya siguro yun meaning nun band name," Edy elaborated.
Inspired by Jamaican and British music, Goodleaf believed that their music is different from the common genre in the Philippines. "Hindi namin kailangan mag compromise sa mga types of genre. Wala kame sa kahon," they stated. "Siguro ang maganda lang sa Goodleaf is we can experiment in different sounds." The band had proven this stand as they had already produced three of their own albums while being invited in various music festivals and bar gigs. Aside from that, Goodleaf also signed to Delink Records – an independent label based in Australia. "Hopefully 1 to 3 years from now makalabas na kame ng bansa, laging nauudlot e hehe," the band jested.
Aside from these topics, Goodleaf also tipped some advice to those who want to form their own band. "First, you have to satisfy yourself, second is your bandmates," they began. "Yun urge mo tumugtog, dapat gusto mo yung ginagawa hindi dahil ito yung in or yung pop or malaki yung crowd or whatever, kailangan mo maging totoo sa gagawin mo," they explained. According to Goodleaf, a true Rakista is someone who can stand for something he/she like or have the guts and balls to stay true to his/her passion no matter how unconventional and eccentric it may be. They also added that having an inspiration is a good way to start something original out of them, instead of copying their style. "Kill your idols, patayin mo. Ideolohiya na ire-replicate or magiging katunog mo dapat ang mga idol mo sa music. I absorb mo lang yan mga influences mo then start something new."
Before ending the interview, Goodleaf has a short message Rakista community saying, "Suporta at palaguin nyo pa ang community! cheers!"
Be updated with Goodleaf by following them on their Facebook page at
https://www.facebook.com/pages/Goodleaf/382532451871480?fref=ts.
You can also request and/or vote for their songs on Rakista Radio by just searching "Saydie" or the title of the song/s under "Playlist and Requests."
By: iel – Rakista Team