From Dust We Came: "Let The Music Be Your Noise"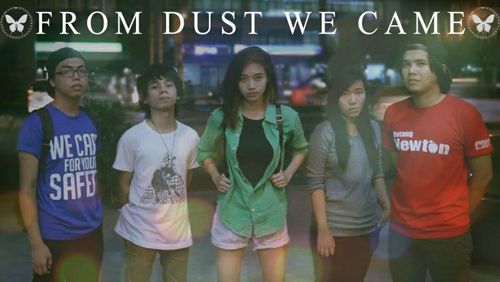 photo courtesy of Facebook
From Dust We Came is a female-fronted band based in Quezon City. Their band name was derived from the bible verse of Genesis 3:19 which states "For you are dust, and to dust you shall return." Composed of Donella Angela Dicang (vocals), Angeline Aragon (Bassist), Andrew Aragon (Guitarist), Crisron Lucas (Guitarist) and Keith Avellaneda (Drums), From Dust We Came was considered as an Alternative Rock band with songs that used to be more realistic about Life and God.
In an interview with the quintet, they admitted that their notable influences are Flyleaf and Firefly. "Nowadays, some people say that female-fronted bands are replicating Paramore's music. But still, we chose the alternative rock genre, more original from the other female-fronted bands."
We also asked From Dust We Came during an interview whether they play music for love and passion or for fame or fortune where they proudly answered, "We are playing our music to have fun. We want to share our music for those people who needed it. Making them happy while we are playing on stage makes us thrilled."
FDWC also imparted some lessons they had learned while standing as a band. "We learned to respect everyone's music and every musician we met on gigs." Aside from that, they also shared that understanding is one of the most important keys in forming a band. "Let the music be your noise and respect your member's opinions and suggestions," they added.
According to them, a true RAKISTA is someone who always supports all kinds of music, local or even international. "We are really thankful that there is Rakista Radio who allows and helps local bands to spread good music and be known to loyal rakistas out there," the band expressed in revealing their message to Rakista Community.
As of now, From Dust We Came still allows their listeners to download their songs for free. "We are also looking forward to launch our EP and music video soon and be part of the line-up of Rakrakan Festival."
Be updated with From Dust We Came by following them on their Facebook page at
www.facebook.com/Fromdustwecame.
You can also request and/or vote for their songs on Rakista Radio by just searching "From Dust We Came" or the title of their song/s under "Playlist and Requests."
By: Jezz – Rakista Team