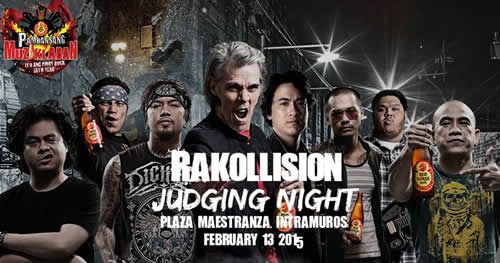 Muziklaban Rakollision: 16 Years in the Frontlines of Pinoy Rock!
February 13 – Five indie bands, five Red Horse Beer brand ambassadors, and ONE grand title at stake headlined the country's biggest, most eminent, and only nationwide band competition last Friday at the historic Plaza Maestranza in Intramuros. The Red Horse Beer Pambansang Muziklaban competition, also the Philippines' longest-running battle of the bands, celebrated its 16th year with tons of booze, a night-ful of pure rock and roll, and a novel way of shaping fresh, young talents into bona fide rock stars. Dubbed as "Building a Rakista," this year's Pambansang Muziklaban Grand Finals reinvented the whole concept of band competitions with the introduction of a "mentoring system," with each amateur finalist getting one-on-one sessions from one of five Red Horse Beer bands, namely: Slapshock, Greyhoundz, Kjwan, Wilabaliw, and Razorback.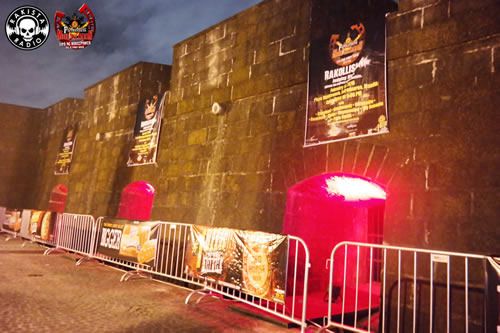 Plaza Maestranza, Intramuros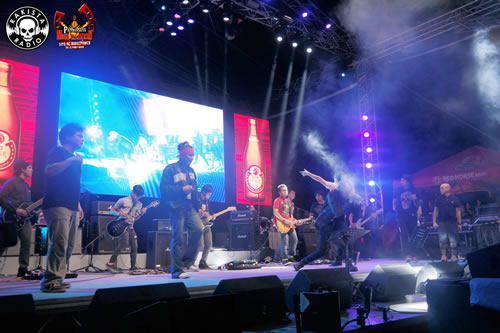 Come together!
Plaza Maestranza was opened to guests as early as 5pm; the program started half past 8pm with a remarkable rendition of The Beatles' "Come Together" from Kjwan, Ian Tayao, Reg Rubio, Jamir Garcia, Kevin Roy, Pepe Smith, and five guitarists from the Muziklaban qualifiers. Their performance was promptly followed by the first PML contender, rap-metal band I Killed a Cockroach Once (IKACO) – mentored by rap-metal legends Greyhoundz and later joined by Reg Rubio on stage – whose energetic showmanship and musical interplay were nothing short of badass. Next to take the stage was Nobela from Cagayan de Oro City, their alternative brand of musicianship seamlessly polished after their interaction with mentors Kjwan; Marc Abaya even had a great time doing his stage antics with the boys on their last song and, mind you, it takes significant effort just to keep up with Abaya's on-stage pranks.
IKACO jammin' with 'Houndz frotman Reg Rubio
Schooling done right, Marc Abaya-style!
Progressive metal act Through the Waves captured the crowd's attention with their melodic aptitude and ambient instrumentals during the third set. The Slapshock-trained quintet, despite being the only band with no vocals, instantly became a favorite among music technicians backstage and among the crowd. Caviteños cheered and raised their hands in support for homegrown Ex-Manager BAND, mentored by Razorback, their skillful and powerful set making them a heavy contender for the Muziklaban Grand Champion title. Last, but definitely not the least, was Rizal-based Blood Over Matter, champions of the Greater Manila Area and
padawans
of Wilabaliw; they unleashed an electrifying performance that shook the entire venue and everyone in it, and opened the stage for the main attractions of the evening.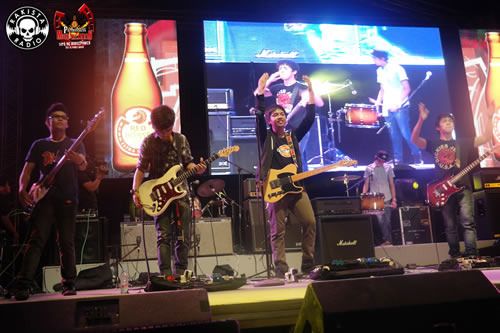 Through The Waves rousing the crowd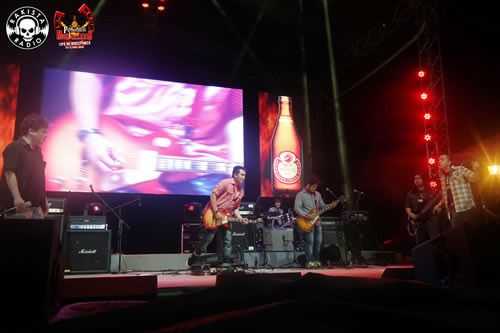 Kevin Roy rocking with his mentees, Ex-Manager Band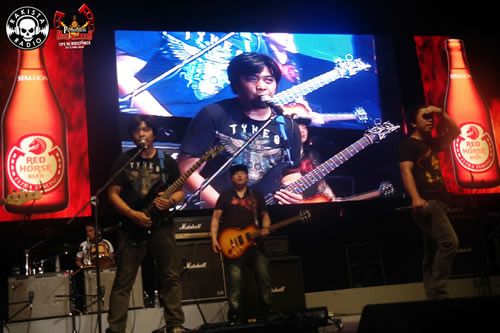 Rizal's pride, Blood Over Matter
2012 PML title-bearer A Music Theory kicked off at exactly 11pm, followed by crowd favorite and 2004 PML Grand Champion Mayonnaise, both bands' relatable and genial tunes rousing the audience's moods for the remainder of the night. The "Bad Boys of Rock N' Roll" Kjwan received standing ovations from the crowd for an intense set that saw Marc Abaya climb railings past red-clad macho bouncers and surf into a horde of hysteric fans TWICE! Ian Tayao and the boys of Wilabaliw unleashed an equally brilliant and crazy performance (as they always do) afterwards; Ely Buendia with Pupil later entranced their viewers to some good ol' post-punk and alternative rock tunes that perfectly blended with the evening's atmosphere.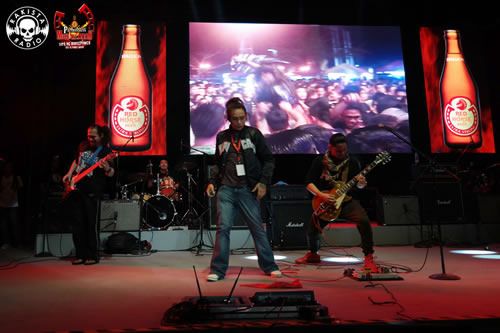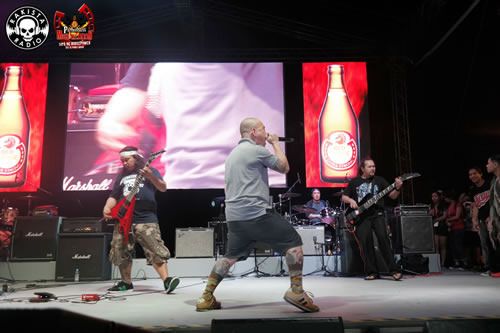 Long-time industry veterans Razorback heightened the festival's mania early on in their set, playing "Giyang" alongside the chorused screams of enthusiastic Pinoy rockers. Rap-metal kings Greyhoundz and Slapshock bombarded Intramuros' bulwarks with explosive back-to-back performances, their audiences echoing words and growls from classic hits that never seem to get old, and clearly defining the euphoric apogee of this year's Pambansang Muziklaban; coincidentally, Slapshock celebrated their 18 years as a cornerstone of Pinoy rock on the same day, so it was definitely a wonderful Valentine's day treat for all the Slap armies in attendance. 2013 PML champions Manila Under Fire wrapped up the night's festivity with their cool and mechanical progressive-rock compositions.
Congratulations, Nobela!
Pambansang Muziklaban Rakollision's finale, of course, is the awarding ceremony. Five indie bands and their Red Horse Beer mentors earlier took the stage to show the height of their abilities, and prove to the judges and audiences that they each deserved the 2014 PML Grand Champion crown. A whiff of ecstasy surrounded Cagayan de Oro's Nobela after the hosts announced them as champions, amid adulations from their mentors Kjwan and from their supporters in the crowd. Finally, their journey as amateurs was over – they were now "tunay na Rakistas." And to further emphasize that point, Nobela, along with Slapshock, Greyhoundz, Wilabaliw, and the rest of Red Horse Beer's ambassadors, will be performing at Southeast Asia's biggest metal congregation, PULP Summerslam XV, on April 25 at the Amoranto Stadium.
See ya Rakistas there! \m/
By:

Kitkat - Rakista Team