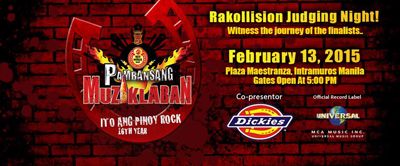 Watch Out For Pambansang Muziklaban: Rakollision!
The Muziklaban has always been the forefather of the local rock scene. For more than a decade, it supports not just mainstream musicians, but also those amateur bands, who are seen to be devoted in unleashing their foot-stomping music skills among the OPM Pride.
Now, 2015 is another year for Muziklaban to continue their legacy of providing an experience with the heaviest, head-banging and lip-biting rock music in the Philippines. And to intensify the battle, this year's Muziklaban have a program called "Building A Rakista" in which OPM rock legends and Red Horse Beer Bands – Kjwan, Razorback, WilaBaliw, Greyhoundz, and Slapshock – mentors the new and excited bands namely, Blood Over Matter, Ex Manager, Ikaco, Nobela, and Through The Waves.
Blood Over Matter is mentored by WilaBaliw, Ex Manager is trained by Razorback, IKACO (or also known as I Killed A Cockroach Once) is under Greyhoundz, Nobela is partnered with Kjwan, while Through The Waves is taken care of by Slapshock. These new set of musicians may be talented enough to be part of the Muziklaban finalist, but there will be something more to anticipate, especially with the outcome that they had developed along with their mentors who were already reigning in the local rock scene.
So better watch out and mark those calendars now. Because on February 13, these five new breeds will compete for Pambansang Muziklaban: Rakollision at Plaza Maestrana, Intramuros. Of course, the event will have performances from the said legendary mentors, along with the other Red Horse Beer ambassadors, Ely Buendia and Pepe Smith.
By: iel - Rakista Team