Rakrakan Festival: A Year-End Concert In Celebration of OPM
And look, a foreigner enjoying a Pinoy sound at the Mosh Stage!
Since its inception in 2013, and its preceding brand of 100% Pinoy rock concerts, Rakrakan Festival has unofficially become a paradise, a home – or in the gravest of Pinoy street terminologies, a 'balwarte' – for OPM supporters to unbridle their love and passion for local music. Those cold, sleepless December nights preparing and rushing to meet deadlines, and chasing after what little borrowed time we had left, were all worth it. We celebrated, along with a 15,000-strong crowd, the Yuletide season with a kick of good ol' rock and roll; and seeing 2014's bigger, louder, and very successful Rakrakan Festival, with 70 local artists simultaneously performing on three stages, namely "Move Stage," "Mosh Stage," and "Groove Stage" to boot, our expression were simply priceless.
Just some people at the Groove Stage enjoying and supporting reggae music!
Rakrakan Festival, held at the Globe Circuit Events Ground, Circuit Makati last December 20, had once again proven itself as historic and monumental in solidifying support for the local scene. Despite some setbacks and technical difficulties early on in the show, things started to progress smoothly once the openers for each stage began invading everyone's ears in Circuit Makati – 2012 Red Horse Beer Muziklaban champions A Music Theory led the way for bands at the Move Stage, The Chosen Ones (surely the youngest and cutest band out of the 70!) caught everyone's attention at the Groove Stage, while Galaw Tao opened the pit for metal fans at the Mosh Stage.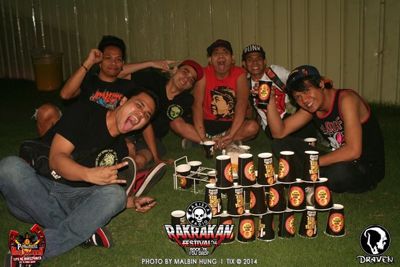 These boys surely know what to do with those beer cups, huh?
And all the while the music was playing, many attendees were lining up to get their free beer, c/o Co-presenter Red Horse Beer, of course; or waiting for their turn to show some awesome tricks at the skateboarding ramps, courtesy of Draven Shoes, also one of the festival's Co-presenters.
Two of the skaters who are also out to show their skills in skateboarding
In addition, hordes flocked along the Baywalk-style Merchandise Bazaar, with its ample selection of t-shirts, tank tops, pants, accessories, and others, for some last-minute pre-Christmas purchases; food booths were also present to accommodate those who were hungry and thirsty, and especially those who were building up their energy to last until the break of dawn.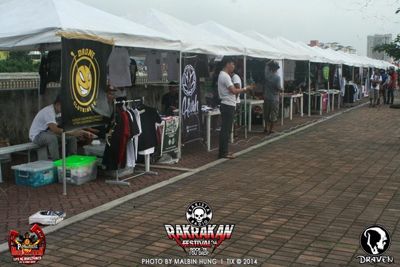 Merch Bazaar getting ready
Lastly, who could forget the huge live art / graffiti board, which became the default background for everyone's sweaty Rakrakan selfies and group pics? Certainly, it is just virtually impossible for anyone NOT to have his/her photo taken on that imposing wall of artistic freedom and ingenuity (unless, you're an indifferent human being, that is).
Seriously, who wouldn't love these graffiti?
The enormity of the venue and the sheer number of OPM favorites performing, and the plentiful array of side activities, however, did not seem to fit well with some attendees who were unable to catch a glimpse of some of their favorite bands. But, then again, where's the fun without a little challenge and sacrifice, ayt?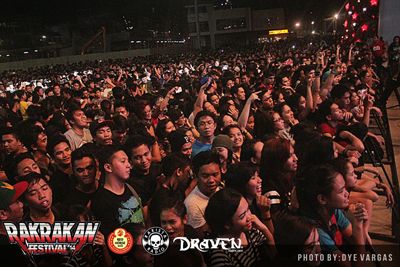 Everyone at the Move Stage surely had fun as they sing along with their favorite bands!
All in all, the 12-hour festival of non-stop music from genres as unique and diverse as the people who gathered at the event, was just exactly what everyone needed and deserved to end 2014 with. It was a testament, a tangible proof, that OPM is not dead and even far from it; that, in fact, it is very much alive and still possesses the kick to make anyone move, mosh, and groove with its music is a celebration that all Filipinos ought to exalt. And for those who think or speak otherwise? Well, we invite you to come and rock 'til you drop with us in Rakrakan Festival 2015. It's surely fucking worth it. 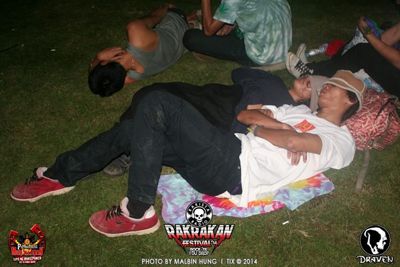 Oh, look at those who really rocked until they dropped!
Rakista Radio would like to thank our co-presenters, Draven and Red Horse Beer; sponsors, Dickies, Hotel Sogo, JB Music, Monster Energy Drink, Club Dredd Burger, Grab Taxi, Soupstar Inc., 12 Stone Records, Malachi, Make It Makati, Stitch.ph; venue sponsor Circuit Makati; and media partners, MTV, Jam 88.3, 99.5 Play FM, Win Radio, Pep.ph, OLX.ph, Radio Republic, Rappler.com, When In Manila, Manila Concert Scene, Philippine Concerts, SM Ticket and Digipost, Ampliy.ph, Business Mirror, Yahoo.ph, Inquirer.net, Pulp Live World, People's Tonight, People's Journal, Pilipino Mirror; the bands, merchandisers, fans, and to everyone who made this event possible.
By: iel - Rakista Team