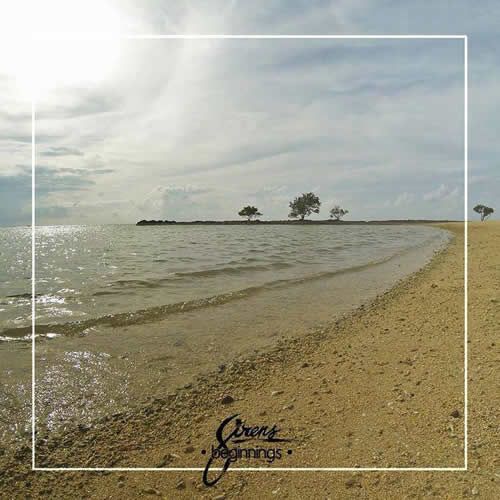 "Things aren't like they used to be, I'm throwing guesses in the air, throwing guesses in the air…" This line hit me good, makes me remember my bad experience with my ex-girlfriend. Props to Cebu-based band Sirens for making me reminisce my past love life with their debut album, "
Beginnings
".
Sirens first released their debut album "
Beginnings
" last December 14, 2013 at Saguijo with Chicosci, Urbandub, Jejaview, Faintlight and Blueboybitesback, and subsequently at The Outpost Bar, Cebu with Powerspoonz, The Line Divides, Shuffled, Drop Decay and Maria Campbell last December 20, 2013.
Before I give you a hint about their album, let me give you a short background about the band. Sirens is composed of Josh Alipe (vocals), Lemuel Morata (guitars), Bram Asuncion (guitars), Wyben Navasca (bass), and Nicolo Nimor (drums). Formed in Cebu City during the summer of 2011, they came together with a plethora of musical tastes and backgrounds, all geared towards experimenting and eventually materializing a fresh and revolutionary musical fusion. After years of playing gigs, they released raw mixes of some of their songs like "
Take All of Me
," "
Tell Me It's Over
," and "
Casting Shadows
." They launched their first MV, "
Moments
," on November 16, 2012. It was all fun and steady when they decided to sit down and worked on their debut album. Months passed by before their hard work paid off, with the help of Emil Dela Rosa of Campsite Recordings, who engineered and mastered the album.
Sirens' album will take you to new heights, with their first track '
Tell Me It's Over
' which is about breaking up with a loved one, and with its catchy drum fills and guitar riff, you will surely fall in love with this song. From there, the album will transport you to a fairy tale world with '
Casting Shadows
'. You can hear front man Josh Alipe singing his heart out with this track, with lines like "out of love I'll give you mine, let the stars watch our lips collide," which sounds like you're in for an affair. '
Take All Of Me
' showcases Sirens' hardcore inspirations with the song's heavy riffs, courtesy of guitarists Bram Asuncion and Lemuel Morata and Nicolo Nimor's drum fills, which blended impeccably with Josh Alipe's melodramatic voice.
Next up is '
When All Is Lost
' – with the way Josh Alipe sings the verses, it recalls tunes and rhythms from Urbandub, one of the band's influences, while still managing to put their own touch in the music. If you want to cool down and relax for a while, listen to '
The Day I'm Found
', the band's instrumental piece in the album. It makes you imagine the galaxy, the stars, and other cosmic stuff. After relaxing, '
Leaving Southern Comforts
' will make you miss your hometown, with its lyrics 'I left my heart in the southern city, but this is where I have to be....' It's a nice song to chill to, especially with a bottle of beer while playing a guitar to remedy your homesickness. The track '
Moments
', I believe, is the rightful carrier single in the album. It will make you dance to the beat of the drums and sing your heart out. 'Disregard the alarm, let's make this moment last.' It is so dreamy and at the same time it makes me want to bang my head because of its heavy drum fills.
The band slows things down with '
Learning To Breathe
,' and with '
Letter To A Friend
,' starts to rage again. This might be the album's heaviest song yet when it comes to musicality and lyrics. 'I'm still learning to breathe, I'm still learning to breathe…' '
Destined For Crowns
' made me unable to stop saying "wow" with its insane drumming, in addition to the heavy breakdowns made by guitarists Bram and Lem, and bassist Webs' eargasmic bass lines. I can't wait to hear this track live.
Last track on the album is an alternate version of '
Moments
,' which is quite different from the original track with the addition of backing tracks and synthesizers, instead of guitars and drums filling up the song. Nonetheless, both versions are great! 'Nuff said.
If you guys want to know what I'm talking about, grab your own copy of Sirens' debut album "
Beginnings
" at their latest gigs; they always bring copies of their album so you can score one the next time you see them live!
Get the latest news from Sirens by liking their Facebook page at:
https://www.facebook.com/sirensph?fref=ts.
To request and vote for their songs, just go to
www.rakista.com/radio
and search for "Sirens" under "Playlist and Requests"
by Ralph